This information is a Conditions Update. Danger ratings are only issued with avalanches advisories.  The next avalanche advisory is scheduled for Saturday February 16, 2019. 
Previous avalanche advisories HERE
---
MIDWEEK SNOW AND AVALANCHE CONDITIONS SUMMARY 
Avalanche hazard exists for persistent slab at mid to upper elevations. Human triggered avalanches are possible and natural avalanches are unlikely. Remotely triggered avalanches will be possible in isolated areas. The last natural and human triggered avalanches occurred last week.
Slab avalanches are the main concern, 0.5-3.5 feet deep, and large enough to bury, injure, or kill a person.
At low elevations, natural and human triggered avalanches are unlikely.
Avoid steep slopes with terrain traps such as gullies or cliffs, and choose slopes with gentle, fanning run-outs.
Monday night a storm brought 2″ of new snow (0.16″ SWE). Winds increased Tuesday, filling in old tracks and leaving the snow surface wind affected.  A drizzle crust is still quite noticeable across Hatcher Pass and seems thicker near Hatch Peak and Skyscraper, versus thinner and barely discernible near Government Peak.   Good ski quality has been found in areas with a thinner drizzle crust and at lower and mid elevations.
This report is a mid-week conditions update, so please be sure to check hpavalanche.org for advisories on Saturdays and follow the HPAC Facebook for updates. Help us keep tabs on the Hatcher Pass area! If you see any avalanche activity send us an observation HERE. Thank you to everyone who has already submitted observations this season – you can see those HERE!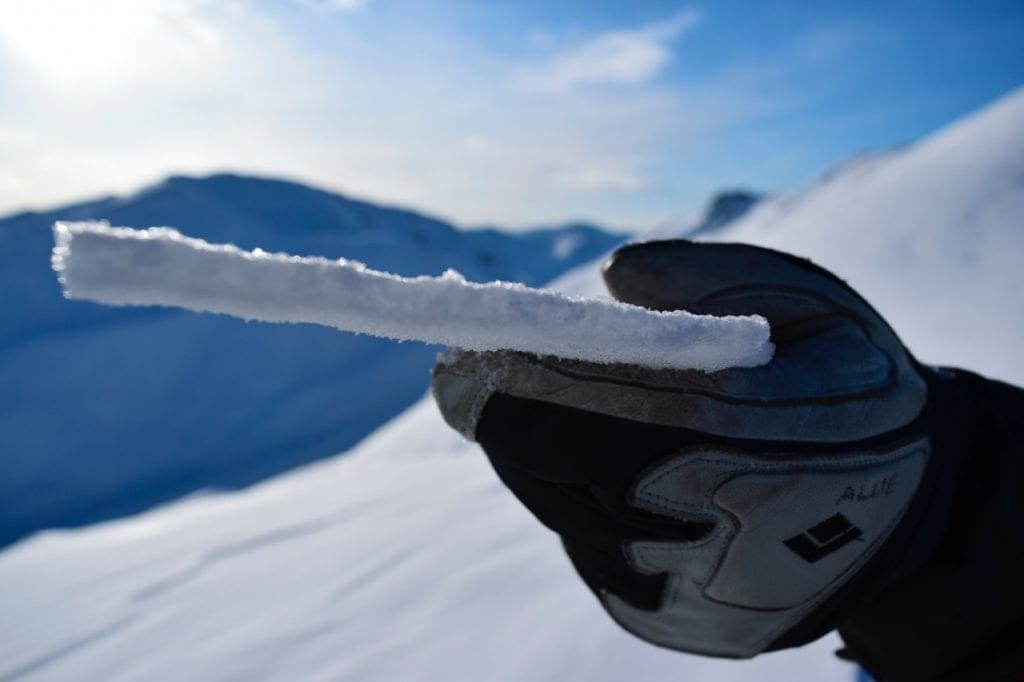 A drizzle crust affecting ski quality can be found in most areas of Hatcher Pass.
Moderate to strong winds 2/12 transported the 2″ of new snow and some older snow in areas where the drizzle crust was patchy. The snow surface is now slightly wind affected with surfaces ranging from drizzle crust, to soft sastrugi, to packed powder.
The drizzle crust affecting ski quality varies in thickness across Hatcher Pass.  Areas like Government Peak have a barely discernable drizzle crust at upper elevations.